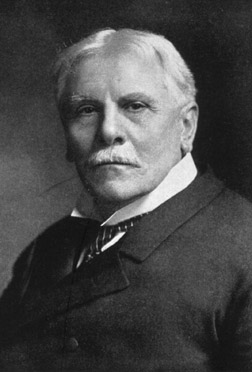 C. I. Scofield
1843 - 1921

"The merits of my cause should not be judged by my ability in presenting it."

Born in Michigan, Cyrus Scofield became one of the foremost names among Bible students.

His mother died at his birth, but before she died, prayed this boy might become a minister.

His family moved to Tennessee, where he received his early education.

Although his parents were Christians and the Bible was read at home, Cyrus didn't consider it a book of investigative study but one to enjoy merely for its stories. So his religious experience prior to conversion was superficial.

The Civil War prevented him from entering the university, so he never received a formal collegiate education. At 17 he entered the Confederate Army. When the war was over, Scofield studied law in St. Louis and afterward moved to Kansas where he was admitted to the bar in 1869. He served in the Kansas State Legislature and at the age of 29 was appointed by President Grant as United States District Attorney fro Kansas. Later he returned to St. Louis and re-entered law practice. During this time he drank heavily. However, this passion for drink was completely removed when he received Christ through the efforts of Thomas S. McPheeters, a YMCA worker.

Scofield immediately became active in Christian work. He was ordained in 1883 and became minister at First Congregational Church, Dallas.

As a result of diligent and systematic study of the Scriptures during his years of ministry, he produced the Scofield Reference Bible and the Scofield Bible Correspondence Course.

Scofield died on Sunday morning, July 24, 1921, at Douglaston, Long Island.